The reality is that the best way to find a job today is completely different from what it was 15 years ago. Growing up, many of us thought that the path into a great job was to get into the right college, get the highest GPA you can get, and then simply apply.
A recent study by Chronicle of Higher Education has shown that most employers rank the things most college students would deem "essential" as least important when hiring recent college graduates.
Check it out: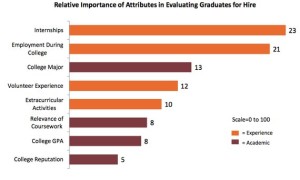 What does this mean to you if you're currently in college? It's time to get an internship and a job. Future employers will be very hesitant to hire you if all you did was go to college and not put any of your knowledge into practice. Even if you start of working at a restaurant, for example, employers want to see what kind of employee you were there. They want to see if you always went the extra mile and strived for a promotion, if you were reliable, consistent, and able to handle the responsibility.
Ideally, an internship in your area of study is what will help you land that job you want straight out of college. Internships not only allow you to get experience, but allow you to put into practice that which you are studying in the classroom. Therefore, you are retaining a lot more information than if you were simply memorizing for the next test! Not to mention often times internships lead to full-time jobs!
Now, the big question: Does the school you go to really matter?
Check out the stats for yourself:
Therefore, your education is only relevant when you are truly learning and applying your knowledge in the workplace. Simply earning As and forgetting what you learned this semester by the time summer comes around will not help you land the job you want after college.
Don't know where to start? Create a Linked-IN profile and start connecting with future employers!